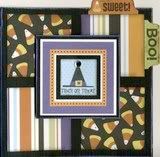 Happy Halloween, everyone!
I hope you all have a safe and happy day full of tricks and treats and good times with friends and family. For weeks, J had decided he would be a policeman for Halloween. We bought the costume, pretended to "arrest" people, and talked about it non-stop. Then, the Curious George obsession kicked in. Oh, yes, it had been there for a short while, but not like this. Suddenly, J "realized" that he could get a monkey costume instead. Apparently, so did every other 2-year-old in the country. Couldn't find a monkey suit from here to California. What's a mama to do? I was almost ready to learn to sew. ACK! Then, we walked into a resale store in town, and there it was hanging on the rack, the right size and all. It was fate. He WOULD be a monkey after all. Thank God, I wouldn't have to try to sew. Whew! Stay tuned for some funny pics of Curious J. For now I leave you with a few things I've done over the last week or so...
The 2 layouts are Design Team work for Scrapbook Fever from SEI's new Halloween line. Way back before we had a baby, Steve and I actually got to have some Halloween fun of our own : ) The 6x6 card is also from SEI's new Halloween line. Just won first place for this at Recollections...woohoo for a 1st place gift certificate. What more could a scrappin' girl like me want???