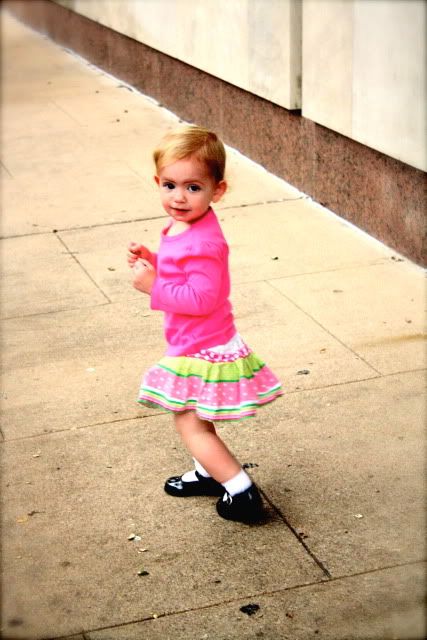 17 months--1/2 major stinker, and 1/2 half sweet, loving princess. Notice which half is first? I have never seen such expressions come from a little baby so young. It's hard not to laugh when she gets mad and furrows those perfectly arched brows into a serious scowl. Or when you're in her space, and she gives you some major Stink Eye. I capitalize that because it's SERIOUS! What stops you from laughing is the shrill shriek that follows it letting you know she is not happy with the situation. Or when you even make a funny face at her, and she tries to smack said face. There is no doubt what she is trying to tell you. Ever. My favorite thing is to watch her when we're leaving a playground/store/school or anywhere people are involved. She parades around with her princess wave telling everyone "bye" and "thank you," then leads us out when she's ready to go.
When I found we were having a girl, I immediately began to stress out about how to raise a self-assured, confident girl in today's world.
Something tells me that's not going to be a problem...